This guide is designed to help you figure out where to buy components and shields for Arduino. It compares 8 online stores based on their prices, shipping, and how easy it is to buy what you want from their website. When I first started looking to buy Arduino components I found there were an overwhelming selection of online stores and it was tough to have confidence I was getting the best prices and service; this guide shares some of the lessons I've learnt ordering components online, and hopefully these lessons help you out too.
Overall, the best place for anyone in the US to buy Arduino components online was Jameco. Amazon can also be a good option, particularly for those that have Amazon Prime. RS Components should be considered by those living in the UK.
SparkFun and Adafruit also provide good value components, but I found this value is typically limited to their own in-house branded "Arduino compatible" products.
In addition to the above, I also looked at Newark / Element 14, Mouser, and Digi-Key.
This guide is online only, there are some places where there may be good options to walk into a store and buy. This is what I used to do living in Hong Kong, I could walk into a shop to buy components at a competitive price, particularly if I was buying a few at a time. Links on this page to digital shops may be affiliate links which, if used, may earn me a commission.
1. Jameco

Jameco is a large US-based distributor of electronic components. They target small buyers (such as for an Arduino project) all the way up to large manufacturing runs. I found they have a good range of Arduino products and components that can work with an Arduino.
I found Jameco to be the best online shop for anyone living in the States based on how easy it was to buy cost effective components for Arduino projects. In particular, the Jameco search function really impressed me – I was able to quickly find and buy the best priced components that I was looking for.
An example of this search was when I wanted a 400 point breadboard. On Jameco I could type in 400 breadboard and the first result would be the cheapest 400 point breadboard; on the other sites here it would either be an expensive 400 point breadboard, or it would show me all breadboards and I'd have to filter out to find the 400 point ones.
Jameco also has great support for Arduino, stocking various boards, shields, and Arduino starter kits. Examples of Jameco's Arduino products include (prices at time of writing):
Arduino UNO R3 for $20.89
Arduino starter kit (official) for $84.95
Motor Shield (Arduino compatible, from Adafruit) for $19.73
Shipping from Jameco seemed to be a good price for the US (roughly $4), though the timing didn't seem very clear. I was using a California address for my testing (see below for more detail on how I tested each supplier) and the cheapest shipping options didn't include delivery time estimates. Shipping to addresses outside the US was expensive and still didn't always include delivery time estimates.
Overall on the balance of cost, shipping, and how easy it was to use their website, Jameco gets the first spot on my list. Click here to visit their site.
2. RS Components

RS Components is a general-purpose electronics supplier based in the UK. They have distribution options around the world. While they typically focus on large quantity orders, I've found them really supportive of the small orders typically found in Arduino projects. The UI of their site is also really good.
I found RS to be the best choice for anyone living in the UK. In my experience it's also been a decent option for anyone in Asia.
The search function on RS' website allows you to quickly find good value components for your project. It doesn't overwhelm you with technical information, or try to advertise more expensive products to you. RS also have a generous free shipping over £30 offer for customers in the UK.
RS typically have a wide variety of Arduino components available, such as:
Arduino UNO Rev 3 for GBP 21.39 (inc. VAT)
Arduino motor shield for $23.37
Arduino starter kit (official) for $93
RS would be number 1 on this list except that it doesn't offer a great experience to anyone in the US. If you try to buy from the US store you still have to manually change the currency from pounds to dollars, and you also have to answer questions about exporting and VAT status (which Americans most likely won't have)
The one downside to my experience with RS is that I've had the occasional order be significantly delayed after placing the order (estimated delivery of 6 days slowly drags out to 4 weeks). This is an experience I've had with them in Asia and Australia, I haven't had an experience like this with RS in the UK.
If you're interested in RS, click here to check out their site.
3. Amazon

Amazon carries a wide variety of Arduino shields, components, and electronics that can be used to build Arduino-based projects.
I found it difficult to identify the product that best matched what I was looking for, particularly in terms of price. For example, when I searched for breadboards, nearly all of the displayed results were advertisements for bundles of breadboards. I had to scroll quite far to find a single breadboard (which was the cheapest option for what I wanted).
If you're good at searching Amazon for the most cost effective product, it's a good option. Overall, Amazon was the cheapest for buying electronics (if you could find them), and was competitive for shields, Arduino boards themselves, and starter kits. They're also very cost effective for quick and timely shipping.
4. SparkFun

SparkFun is a brand, shop, and learning resource targeted at the hobby side of electronics projects. They manufacture their own "Arduino-compatible" products for sale, as well as stock the Arduino itself, and electronic components that can be used in Arduino projects.
I found SparkFun to be very supportive of Arduino projects, often carrying shields, components, and instructions to help you achieve a project's aim. It did occasionally feel like I was being pushed towards their own manufactured kits, products, or their own projects, but I guess that's how they make money. The SparkFun branded products I still found to be good value though.
Often the SparkFun branded Arduino-compatible products are a little cheaper than original Arduino. Some examples of the prices of product SparkFun sells include:
SparkFun Motor Shield (Arduino compatible) for $20.95
SparkFun Starter Kit for $99.95
Arduino UNO R3 for $22.95
Shipping with SparkFun was estimated at 5 days and only cost a few dollars, or free if you spend over $100. International shipping was roughly the same price for the goods I was ordering, though the estimated time was a few weeks instead.
If SparkFun sounds like it can help you, check out their site here.
Arduino, as an open-source platform, is available for anyone to make these sorts of Arduino-compatible products. If you're interested in making money with Arduino, making your own Arduino compatible products can be a great way to do it. I wrote a whole guide on making money with Arduino available here: chipwired.com/make-money-with-arduino/
5. Adafruit
Adafruit is also a brand, shop, and learning resource (similar to SparkFun) targeted at helping people learn about electronics by building projects. They also manufacture their own products, and produce their own learning material, to help you learn about electronics as you're putting projects together.
Similar to SparkFun, Adafruit branded Arduino-compatible products are a little cheaper than original Arduino. There is also a slight shipping cost benefit if you're in the US, as Adafruit products are typically manufactured and shipped from the States. Some examples of products Adafruit sells include:
Adafruit Motor Shield (Arduino compatible) for $19.95
Adafruit Starter Kit (with in-house Arduino equivalent board) for $84.95
Arduino UNO Rev 3 for $22.50
Estimated shipping costs with Adafruit are outlined in the table below:
Destination
Example costs and delivery times
US West Coast
Regular for $5.10
4-7 days for $12.99
United Kingdom
Regular for $16.90
2-4 days for $36.02
Australia
Regular for $18.90
4-7 days for $38.07
Estimated shipping examples for Adafruit
Adafruit's site can be found here.
6. Newark

Also called Element 14 or Farnell, Newark is a global network of electronics suppliers with a wide variety of components and products on sale. Their stock is targeted at anyone buying for a single electronics project, all the way up to massive manufacturing runs.
I've had the most success with Element 14 (Newark) in the past. They have a great network that's been able to get me components, even in small order, quickly. The downside to this is that shipping can be expensive.
Shipping is fast. Expect 2 day or even 1 day shipping depending on where your component is coming from (they often have stock nearby). This fast shipping isn't cheap though USD 10, GBP 10, or AUD 15 for quick delivery in the respective country. Unlike other suppliers on this list, I've never had an unreasonable shipping delay when ordering from Element 14.
Their prices for components are competitive as well. Some examples I found include:
Arduino starter kit (official) for $90.88
Arduino UNO Rev 3 for $21.07
Arduino motor shield for $22.03
Adafruit motor shield for $19.95
The website is a little harder to use than some of the others on this list, which is why I didn't include it earlier. It feels like the website is aimed at a more advanced user who knows exactly which part they want. I felt it wasn't a great experience browsing products on their website. That said, I did feel it was better than the remaining two shops on this list.
7. Mouser
Mouser is a large electronics distribution network with headquarters in Texas. They have a large global presence and ship to many countries. While they seem geared towards bulk orders, they do support the small quantity orders that Arduino projects typically require.
I found Mouser to have a good global network, rivaling that of Newark/Element 14. It felt like Mouser though was really targeting big orders, it was a little harder to order small quantities on their website than some of the other suppliers on this list. I also found it hard to browse components on their website; if you want to buy from Mouser I suggest doing a lot of research to make sure you're buying the right thing for your project.
Overall I found their prices competitive with the other suppliers. Example prices I found on Mouser's site include:
Arduino UNO Rev 3 for $20.90
Arduino starter kit for $89
Arduino motor shield for $22
Shipping with Mouser was slightly cheaper than Newark, offering 2 day shipping to the States for $7.99. I couldn't find any good shipping options to the UK or Australia though – mostly because the website wouldn't calculate the shipping time for me.
Overall I feel while it's possible to buy the components for Arduino projects from Mouser, I'd probably look at a store more targeted to Arduino users instead.
8. Digi-Key

Digi-Key is a large US-based electronic component supplier. They have a large range of electronic components that can ship quickly to most of the world.
I found it really tough to use their website. I guess it's a downside of having so many products – it can be difficult to help people find the right ones. It felt like you really needed to know exactly which component you were ordering and then look specifically for that one; I couldn't find any real way of browsing components. This caused me a bit of frustration when components I thought I'd found were out of stock and the suggested alternative required a minimum order of hundreds, I couldn't figure out how to filter 'in stock' or 'small quantity' orders.
Some example prices I managed to dig up on Digi-Key's website include:
Arduino UNO Rev 3 for $20.90
Arduino motor shield for $22
Shipping appeared to be quick with Digi-Key. Out of the places I tried (see below for how I tested each supplier), Digi-Key could offer 3-4 day shipping. The fast shipping wasn't cheap though with costs ranging from $5 (domestic US) to $20 (international, Australia).
It felt to me like Digi-Key is really targeted at people doing bulk orders and who know what they want. I wouldn't recommend the site for a beginner Arduino user trying to pick up a few components for a project.
Bonus: Arduino Official Store
Components can be purchased from the Arduino official store.
I actually found it quite hard to decide whether to make a purchase from the official store as I wasn't able to view shipping options without creating an account.
The Arduino store also didn't have many electronic components available, instead they focus on kits and shields. Some examples of prices on the official Arduino store include:
Arduino UNO Rev 3 for $23
Official Arduino Starter Kit for $91.90
Arduino motor shield for $23
Without knowing the shipping times and prices, it's hard to recommend the store. And while it had a wide variety of shields and Arduino boards, it didn't have a great selection of other components. If you're looking for a one-stop-shop for Arduino-related components, I wouldn't recommend the Arduino store. It might be a good choice though if you're new to Arduino and not yet ready to trust the third-party distributors I've recommended elsewhere in this guide.
How I Tested Each Supplier
I tested each supplier based on their shipping, their prices for different bundles of electronics, and my own experiences with their websites and ordering process in general. This was a sample test so if you feel I missed something, please reach out and I'll be happy to add it in.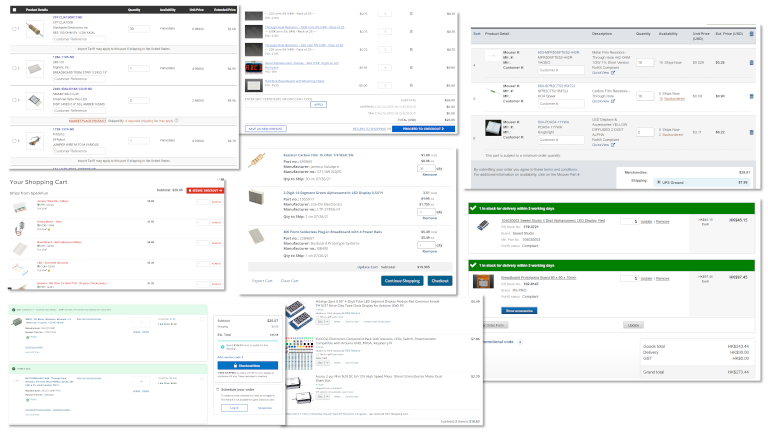 For shipping, I tried three addresses:
Los Angeles, where a friend is living;
United Kingdom, Southampton, where I used to live;
Australia, Melbourne, where I grew up.
For cost of components, I tried various 'baskets' of Arduino components that I've wanted to buy throughout my Arduino journey:
Electronic components including various resistors, LEDs, small motors, jumper wires, alphanumeric LED display, and a 400 point breadboard;
Starter Kit, a basic starter kit (see my guide to starter kits here);
Arduino shields;
An Arduino board itself with nothing else (this is how I got started with Arduino).
For ease of use, I tried out their website, including search and filter features, and went all the way through to finishing the shopping cart.
My personal experiences with each supplier are also reflected in my ratings.
Chris has been building electronics projects for years. He typically orders components online from these stores (most recently from RS), though occasionally he does visit a physical store to buy components.